Having passed my doctoral exams in clinical psychology at the University of Amsterdam in 1978, I developed a strong interest in body/mind interaction. This resulted naturally in a keen interest in forms of therapy that not only can avoid the use of drugs but that are in themselves insubstantial or purely informational in nature.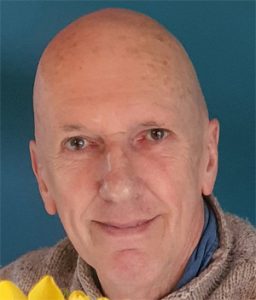 I qualified in traditional acupuncture in 1980 in the UK, Classic 5-Element style. I have been working as an acupuncturist in Canterbury since 1982 where I started the Canterbury Clinic of Traditional Acupuncture while studying further in this tradition and also teaching at the College in Royal Leamington Spa.
Continuing interest led me to study other approaches including the current style as it is practised in contemporary China, known as TCM, as well as a very practical and traditional school of thought taught by Dr Richard Teh Fu Tan, the Si Yuan Balance Method.
And since late 2011 I have also become interested in Ear Acupuncture as developed by Dr Paul Nogier who is considered "the father of ear acupuncture" by the Chinese. In this I have found at last a safe method to explore the joys that this more Western technique can bring.
I am a full member of the British Acupuncture Association.
Having received my first training certificates in Scenar Technology at the STC (U.K.) in 2003, I studied further with Prof. Alexandre Karasev, Prof. Alexandre Revenko and with Dr Irene Kossovskaia on who's invitation I lectured on the use of the latest Scenar and Cosmodic Technologies in the US.
I was further invited to lecture in Switzerland, Ireland and the UK on the integration of Scenar Technology with Traditional Chinese Acupuncture.
While Dr Revenko has initially developed solid protocols for the use of the original Scenar devices, the inventor Dr Karasev has taken the development much further. Later devices, going under the name of Cosmodic, have become ever more sophisticated and effective and the development of the last phase, called ENS is reaching its culmination.
But I couldn't stop here.
While the success rates of acupuncture and Scenar are high and on a par and while they also complement each other beautifully, one filling many gaps in the other, there were still some people who did not experience the benefits I was looking for.
No system of medicine is a panacea of course but for these people most of the time there was a pathogenic factor, an underlying infection of sorts that had weakened him or her sufficiently to make recovery difficult or incomplete.
That is when my interest in the Rife Technology transformed into action. No schools to visit but with homework one can go a long way and while I am still exploring possibilities some ways of working are crystallising out.
Being forever acutely interested in new developments in medicine that do stimulate our inherent natural healing capacities, I incorporate the use of LLLt (Low Level Laser treatment) in my treatment sessions when this seem appropriate.
TFT (Thought Field Therapy or the Callahan Technique) is a well-studied and handy tool that on the occasions where it was appropriate had a massively liberating effect on the person by resolving long established phobias in an instant. Spectacularly so. I always look forward to the occasion where it is appropriate to use it again.
I am a full member of: